Sagittarius Forecast for December 2014
By Susan Miler
This will be a memorable, important month. For the first time since 1985 to 1988, Saturn will tour Sagittarius, starting December 23, 2014, and continuing until June 14 to September 17, 2015, when Saturn will make a brief re-appearance in Scorpio (in retrograde) before returning to Sagittarius for to stay uninterrupted until December 19, 2017.
Saturn is called the taskmaster planet that drills us in self-discipline, and teaches the necessity for preparedness and consistency. It is true that Saturn will make you work hard, with an all-encompassing devotion to a life goal of your choosing, but fear not, your efforts will be worthwhile.
You're likely to take on the challenge because the backend benefits are so worthwhile. What you accomplish with Saturn stays with you for a lifetime, and you will be setting up a firm foundation for your future. What you choose to do will be something new to you, so you will have to learn new rules and standards. It will be something just a few years ago may have felt beyond you, with too much responsibility for you to even consider. That was then, this is now, and you have grown and are ready for the next step in life.
When Saturn comes by, we realize we have outgrown some of our goals - by comparison to your new ones, those old ones may seem a little juvenile now. You are about to reshuffle your priorities, delete the goals that no longer interest you, and add new ones to your list. You are a jovial, happy soul, but you will show a new seriousness in all you do - this new attitude will add a patina of depth and richness to your personality. Friends, family, and colleagues will notice this in you, as well as people who first meet you. You are changing and evolving, and your new life will seem at times like a wonderful adventure.
You may get married under this trend, or have your first baby. You may write a book or go back to the university to get your graduate degree. You may buy your first house or apply for a grant to do research in a foreign country. You may accept a big promotion in your company or start your own business. If you always wanted to direct a film, you will get your chance in the coming three years. Whichever dream you choose, you will be setting out to do it for the first time, and you will need to consult friends and family and possibly hire an expert to help guide you in the new terrain.
If you work for others in a corporation, you will have an older, more experienced person nearby to help you every step of the way. (Later, when you've mastered your new position, you will tell that person he or she can relax (translation: "you can go now"), but this person, who will be "Saturn" in your life, will remain. At times this person will be critical of you, but all the while, they are really on your side, working to get the best from you - this person just has a funny way of showing how much he or she cares.
Saturn years usually bring along a feeling that we are growing up in some significant way, and with that comes an increase in status, and lifestyle changes too. The coming year will require you adapt, but these changes you are ones you will be willing to make because you will be building something of value that will stand the test of time. Sagittarius is a mutable sign, known for flexibility and resourcefulness.
Perhaps someone lately showed an interest in your talents and experience, and it became obvious that this person took your future development quite seriously - more seriously than you had ever taken yourself. You are likely to encounter a person like that, one who believes in you in a way that may take your breath away. When you do, you will grow in confidence, and as you tackle your new goal, you will feel a deep sense of purpose that you will find energizing and exciting.
Saturn will always want you to work, not play, so frivolous pleasures that you used to enjoy will suddenly seem like a waste of time. There is no doubt that Saturn can require harsh limitations for those who have problems buckling down, which is probably why new students of astrology give Saturn a bad name. That's a shame because Saturn is fair and is willing to show you through a series of life tests that you are far stronger than you ever imagined. Saturn will give you direction and determination, wisdom and maturity, and independence and a strong sense of identity. Without Saturn, we would have no backbone, and I'm afraid, turn ourselves into little marshmallows.
Saturn does not send rewards while the cosmic tutoring process is underway, but will leave a major gift by the door as he leaves in 2017. Have faith that all the work you do to shape your new, grownup life will come to something special. I will be with you as you walk over the threshold into your new world. As Saturn in Sagittarius converses with the other planets as they rotate around your chart (and the Sun), they will form a wide variety of aspects. I will help you every step of the way until you feel completely comfortable in your new role.
Sagittarius who will feel this trend first are those born at the end of November - the early born natives of your sign. If your birthday falls on November 22-24, you are up at bat right now.
One last note: you won't feel Saturn's presence for the entire three years, but mainly when he is passing overhead mathematically, that is, when he is within plus or minus ten degrees of your Sun. This means we all get ten months of tutoring, and no Sagittarian will get any more or less time with this important planet.
Keep your health strong and vow to eat only the most nutritious foods. Saturn conjunct the sun, as you will have in coming months, is considered a draining aspect. You may find you run out of energy quicker than usual, but that's temporary. When we change responsibilities and lifestyle, everything is so new that it may be an exhausting process. It's nothing to be concerned about as long as you treat your body with tender loving care.
Now let's go through the month with some detail. I love the first days of the month, and I think you will too.
The month starts out with Venus in your sign, you will be your charming best during prime time for holiday parties, December 1 to 9. I am particularly enthusiastic about December 4, when Venus in Sagittarius will receive a shimmering signal from Jupiter, giver of gifts and luck. It is very significant that Jupiter is your ruling planet, because although other signs will enjoy this day, you will enjoy it more - for you, Jupiter has double the weight and influence in your chart. Jupiter is currently touring your long distance travel house, which also rules your relationships with people abroad. These are glowing, dear Sagittarius.
The ninth house, which rules travel, also rules higher education (that is college and beyond), legal matters, immigration, passport, green card and visas, and all projects having to do with the media, in terms of publishing and broadcasting. This is a great day to focus on any of these areas listed because you'd have a large margin of luck.
On the same day, December 4, Uranus, planet of innovation, and Jupiter, luck and money, will be in ideal sync with each other, giving you exceptional creativity. Be sure to focus on a current project, and give it a new spin that you hadn't thought of before (nor has anyone else) and elevate it into a whole new realm. This day may be great for romance in the evening - if single, mix and mingle!
On December 5, Mercury in Sagittarius will be in ideal angle to Uranus, another day to bring out a high level of creativity, but it also may bring sweet love and romance too.
A partnership commitment seems to be on your mind over the full moon, December 6 plus or minus four days. Many couples get engaged for Christmas or Hanukkah, and this year, this may be you. With Saturn on your Sun, you will crave stability, and if you know your partner is right for you, you won't see any more reason to wait. You seem ready to get on with the process of living. If you are already in love, and already committed, engaged, and perhaps married, then you will cook up ways to make more of your relationship.
You can use the full moon of December 6 in Gemini 14 degrees to form a solid business partnership too. You may make your collaboration official at this full moon, or you may hire an agent, representative, publicist, ghost writer, writing partner, new accountant, or any expert who will work one-on-one with you. I am excited by this full moon because it sends a lovely vibe to Uranus, indicating something is coming up to surprise you about this process, in a good way. Jupiter will be orbiting in the neighborhood of this full moon, not quite as close as I would like, but not too far away to help. When Jupiter is near, good financial news is not far behind.
If your birthday falls on December 6, plus or minus five days, or you have Sagittarius rising at 14 degrees plus or minus five degrees, the full moon in Gemini will have a powerful effect on you.
Your next stellar day will be December 12, when Mercury, the planet that rules your tenth house of honors, awards, achievement, and fame, now in Sagittarius, will reach out to Jupiter, the good fortune planet. This will be a day when your career skyrockets, and as said before, when Jupiter links to a planet, money should materialize from actions you take on this day.
My favorite day for you will be December 14, when the Sun in Sagittarius will work with your ruling planet, Jupiter, and like the aspect on December 12, will be in "trine" position - the most harmonious aspect possible. You are so lucky! It would be a gorgeous day to be on a long trip. This will be a Sunday - this day exudes luxury, fun, and pampering. You might want to spend time at a spa and treat yourself to some quiet time.
If you want to work on a legal matter or idea for a court settlement, do so - your ninth house will be lit up at this December 14 day. If you want to send in papers for a patent or trademark, send your express mail on Friday or Saturday, December 12 or 13. Publishing and broadcasting projects go SO well for you at this point that it is insane. If you need a weekday for a meeting, plan on setting your meeting or presentation for Friday, December 1, or Saturday, December 13, because the energy of Jupiter conjunct the Sun on December 14 will be building on those days.
Mars will enter Aquarius on December 4 to stay until January 12, indicating you will be traveling not only long distances, but short distances too. Mars will allow you all the opportunity you need to spread your wings over this festive month. Check in with your sibling - it appears she or he has news and perhaps you should drive over to say hello.
Another splendid day to travel to a nearby town would be December 20, when Mars and Uranus will set off incredible sparks of electricity. You may not know you will be hopping in your car or taking a quick flight to a nearby city on this weekend, but you might, and it would be so much fun. This is also a highly romantic weekend date, so be sure to be out and about enjoying the holiday lights and the beautifully decorated restaurants.
Uranus will change to strong, direct orbit over that weekend, December 20-21, having been in weak retrograde motion since July 21. If you are working on a deal that has been languishing, everything will start moving quickly now. Watch the days that span December 18 to 24 for proof of this. This weekend will be wildly romantic too,
I mentioned a lot of sparkling days for you, but I would like to warn you that December 24, Christmas Eve, will not be a day to travel. With Mercury in hard angle to Uranus, delays will come up, and you may be waiting in an airport a very long time. If you have the kind of business where you have your doors open this day, prepare for things to possibly go wrong. Protect your Internet files by changing your passwords.
Christmas Day, December 25, will be great fun, as the moon will be in Aquarius, and our friends who celebrate Hanukkah will find December 17 ideal, with the transiting moon in Aries, the sign on the cusp of your romance sector. You'll enjoy the day, dear Sagittarius.
The entire tone of the month will switch when we come to the new moon, December 21, and you begin to focus intently on financial matters. To see your chart would surprise you - five out of ten heavenly bodies (half the solar system) will be clustered in your earned income sector, all in the big-money sign of Capricorn. Those include the new moon, Sun, Pluto, Mercury, and Venus. The new moon will be in Capricorn at 0 degrees, considered a VERY powerful degree for a cardinal sign, a critical point, so strong that degree is symbolic of the mysterious life force.
You seem intent on squaring away accounts, paying everyone you owe, and receiving last minute checks as well. If you need to make a large purchase, it appears you would do it after December 21 (but do not make your selection on December 24, the day Mercury, ruling not only travel but buying and selling, will be debilitated). Neptune will be beautifully oriented to this new moon, so save some money for tickets for you and someone you love for a Broadway show, a concert or the ballet. Neptune is the planet that encourages the arts and that looks after actors and other entertainers, and other creative Sagittarians will also do well financially at this time. Be sure to ask for a raise just after this new moon arrives (not before). This is the BEST new moon of the year to get that raise approved - you will have to wait a year to see anything this special.
When it comes to New Year's Eve, you appear to be very cost-conscious. There is no need to spend a great deal on your celebration. You might invite friends in, or drive a short distance to a friend's party. Or, you may enjoy one-on-one time with someone you love, or if single, someone who intrigues you. A home-cooked meal for "just us two" is always romantic.
---
Summary
This will be landmark month for you, dear Sagittarius. On December 23, for the first time since 1985 to 1988, Saturn will enter your sign. You will be encouraged to choose a big goal, for when Saturn comes by, you will be suddenly thinking long-term and yearn to build a firm foundation for your future. Saturn will stay with you nearly three years, although from June 14 to September 17, 2015, Saturn will make its only retrograde back to Scorpio. This will give you a chance to rest and relax, but will not stop your progress and the efforts you made from January through the first part of June. Saturn will help you to accomplish a goal you never assumed you could handle and in so doing help you build security.
This month, romantically, the December 6 full moon will have you meditating about your closest relationship, in love, or if you are not attached, in business. Sagittarius is called the "bachelor" sign, for you don't generally like to be tied down in commitment. Still, there comes a time in nearly everyone's life when not being together with your sweetheart is a more painful thought than being together forever. When it comes to communication and happy coupling, it would be hard to beat this sensational full moon, December 6. Many Sagittarians will be celebrating an engagement over this weekend, a week later, December 12-13. Jupiter is your ruler, and on these dates Jupiter will be very active, sprinkling you with happiness and optimism.
At the new moon, December 21, and the days that follow, you may huddle with your financial advisor to make any needed corrections to your retirement portfolio. You will also be careful to send out checks to close out 2014, and if you have been meaning to donate money to a charity, this would be the month to do it. The most important action you should take will be to ask for a raise - this is the best new moon of the year to raise your income. Don't let this moment pass. You will have several days in which to act AFTER the new moon appears. Consider this: a new moon will weaken with each passing day after it appears until you reach the full moon two weeks later, when that new moon December 21 will be completely spent, and your moment will have passed.
You are considered the travel sign, so the prospect of changing your routine and having a chance to go somewhere new is always an exciting, alluring prospect. Mars will light up your close-by travel sector all month starting December 4 as it glides through Aquarius. You won't be traveling for work - these trips will all be for pleasure, to see friends, your sister, or brother, or to spend quality time with your significant other.
On December 4 Uranus (planet of surprise) will be in perfect angle to the Sun in Sagittarius. If dating, your one-and-only may suggest a highly romantic getaway and off you will go that weekend. Ask grandma if she will babysit - you both need quality private time together. If not dating, this date would be ideal for meeting someone new and exciting.
The full moon December 6 will be romantic too, and it will bring emotions to a full point. Lucky you, you have lots of romantic days this month. You are ruled by Jupiter, so over December 12-13, you'll have great fun - it's one of my favorite days for you - and you will likely enjoy a touch of luxury.
Over the weekend of December 20-21 I bet you will travel spontaneously when an offer comes that's much too good to pass up. The transiting moon will be in Sagittarius too, so you are likely to be excited about what happens over this weekend.
Happy holidays, dear Sagittarius!
---
Dates to note: SAGITTARIUS
Most important dates for love, meetings, or actions Sagittarius: 2, 4, 5, 6, 10, 11, 12 gold star), 14 (gold star) 16, 20-21, 23, 24, 28, and 29.
On December 4 the Sun and Uranus will cooperate boosting your creativity.
The December 6 full moon in Gemini may bring commitment in love or business.
Your favorite day of the month will be December 12, when Jupiter, the good fortune planet (and your ruler) will work with the Sun on your behalf.
I love December 20-21 for brainstorming for creative ideas, and also for travel.
Venus' move into Capricorn, from December 20 to January 3, 2015, will deliver a chance to make more money. There is a chance for you to get a new client who will pay your higher fees.
New moon in Capricorn on December 21 would be excellent for raising your income too, and because this is a very powerful new moon, you should take the opportunity to speak up. Although it is holiday time, ask for a raise. Five heavenly bodies will fill your financial house - half the solar system - so you will have all the cosmic support you need to bring in more cash.
Saturn will enter Sagittarius starting on December 23 for the better part of three years. Work with Saturn, and you will be a quite a force to be reckoned with by the end of 2017.
Do not travel on Christmas Eve, December 24, for Mercury will be at sharp odds with Uranus. Leave early and don't cut travel too close to the holiday. Bad weather or other problems may plague you.
P.S. for December 2014
Happy Birthday Astrology Zone!
Since December 14, 1995, 19 Years on the Internet!
I am very excited to see Astrology Zone reach her 19th anniversary!
I have learned so much since 1995, the year I started, and with each passing year I enjoy writing for you more and more.
This past year has been a big challenge for me due to my health condition,
but you stayed with me, and your steadfast encouragement helped me get well.
2015 promises to be a bigger and better year than 2014; that's good news for you.
Before I got sick, I had many surprises in the pipeline for you.
Next month I will be able to show you some of those projects that I kept moving forward,
despite my illness.
My progress was due to the kindness, and help of my partners.
The first project I was working on in January 2014, you may already know about:
It involved replacing my old apps (started in 2003) and introducing two brand new ones.
The world had changed, and it was time to write new code.
My new apps were announced in last September, one for iPhone and another for Android/Samsung. If you didn't get yours yet, they are free and you can download them now in iTunes or Google Play. All the early bugs that showed up in the iPhone app are fixed, and both the iPhone and Android/Samsung apps run flawlessly.
The graphics of my new, redesigned apps are beautiful. Happily, both new apps will resize to fit all your devices. Please check system requirements.
Once inside the app on your smart phone, you will have the option of subscribing to my longer content for $4.99 for one month or $12.99 for three months - you have overwhelmingly chose to subscribe for the third option, the yearly $49.95 subscription.
If you don't have a smart phone or if you live overseas, you can still subscribe to the same content that I write for iPhone, Android, and Samsung.
Check www.dailyastrologyzone.com for more info.
Another project we launched this year is a mirror AstrologyZone site in all Spanish. Please tell your friends about it. It's free, and here is the special URL: www.es.susanmiller.com.
Thank you so much for your support!
I always enjoy hearing your comments on
Twitter (@AstrologyZone) or Facebook ("Susan Miller")
Have a very Joyous Holiday and a very Happy New Year!
Susan
---
Washington Post Worldwide Chat, FREE!
Thursday, December 4, 2014 at NOON EDT New York with Susan Miller
Use this link to submit your question, and you can post today: wapo.st/1zItm5P
This will be the same link you will use to enter the chat session on Thursday, December 4.
This will be our last chat since we've come to the end of the year and my contract is over. Let's make this a blockbuster event!
As said, my chat is Noon EDT in New York City. To find out how that time translates into your local time, go to the world clock on www.timeanddate.com
When posing your question, please list your first name and your Sun sign, and add your rising sign too, if you know it. If you can ask your question in a way that would appeal to the widest possible audience of readers, you will increase your chances of my choosing your question. I strive to answer questions of every sign of the zodiac! I hope everyone reading this will come, and through the generosity of The Washington Post, there is no fee to participate. It's free.
While you are on the Washington Post site this week, look at the news stories - it's an award winning newspaper and you are sure to be fascinated by many of the stories.
---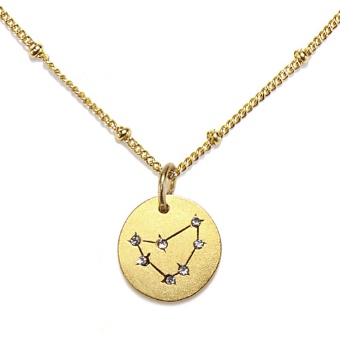 Check Out the Star Map Collection by Sequin
Last March, when I was still well, I was invited by Sequin executive women to look at an idea their talented New York City Sequin Design Studio had for a collection of pendants with an astrological theme. I immediately fell in love with the various astrological pendants, and they asked me to check to make sure all the designs and keyword descriptions of the signs to be used on their site were astrologically correct. I made a few changes to the keywords, but my involvement was very minimal. (Everyone, it seems, at Sequin reads Astrology Zone!) I love the quality of these beautiful pieces. Many girls layer several of these necklaces, using various lengths, and that's a great look too.
The pendants are all made in America and handcrafted by artisans using material components from around the world, and are so well priced that I feel they will fly out of their inventory. These necklaces are gorgeous. They are made of 22K gold-plated brass with antique finish and crystal details. I was impressed with the lovely chain that the pendants come with too, as it is tangle-proof and delicately made to look beautiful when worn. Whenever I wear my necklaces, I get so many compliments.
These necklaces make great gifts, and also would be a beautiful addition to your accessory wardrobe. I quickly chose those necklaces as part of my favorite things to give for holiday gifts, or for a friend's birthday. Imagine how surprised I was that Oprah had chosen this Sequin Star Map Collection as a part of her "favorite things" in her December issue! I was so happy for my new friends at Sequin and the incredible success of this new line of jewelry. It seems Oprah and I think alike!
If you order by December 15, you will get your gift by Christmas. Readers living overseas, please order by December 10 to allow extra time for shipping. Your necklace will arrive in a pretty gift box, perfect for gift giving. Remember to think ahead for upcoming birthdays and Valentine's Day - I know these necklaces are going fast!
Seen here is only one example of the Sequin Star Map Collection of pendants, so click through to see the entire range of jewelry, using this link:
http://www.sequin-nyc.com/collections/star-maps?ref=susanmiller
---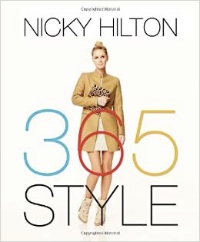 A New and Important Book on Fashion and Style:
"365 Style" by Nicky Hilton
Wow! Amazon tells me you bought SO many copies of Nicky Hilton's book in November!
I love Nicky's book too! Here is my review in case you missed it last month!
There are many books on the market on fashion and style, and I admit, I have bought many of them. In this new book, Nicky Hilton, designer, author, entrepreneur, daughter of Rick and Kathy Hilton, and sister of Paris, has created a completely original, honest, and remarkably wise book on style. It comes complete with many color photographs, and in it Nicky shows you ways you can upgrade your own fashion style from good to style icon level. The goal is to sharpen your personal style by looking within, not by copying someone else's style. Nicky gets you started by showing you some of her favorite style icons, but only to get you thinking. She gives many stories and examples from her own life, and she makes you enthusiastic about going through your own wardrobe to find ways to amp it up. The title of the book refers to Nicky's suggestion that you consider 3 aspects of your lifestyle, and choose 6 staple items of clothing and 5 essential accessories. Doing that will instantly get you a stylish starting point.
Nicky has attended all the fabulous fashion shows in New York, Paris, Milan, and more in her young years, but her advice is down to earth and certainly does not require you have a trust fund. Just the opposite, her tone is one of a best friend going through your closet and handing you advice that is at times funny but always wise. Certainly a lot of what Nicky says makes you think. In one chapter, she advises, "Always dress like you are going to meet your worst enemy" (i.e, bumping into the ex-boyfriend who betrayed you, or the mean girl in high school who made your freshman year a terror.) Nicky gives many examples of her own life and shows how running into that old boyfriend looking like a million because she had taken just a little extra time with her appearance on the way to meet girlfriends for a casual Mexican dinner gave her a happy boost during that unexpected nano-second on-the-street encounter.
With each page, you will rethink your own wardrobe and habits, and occasionally Nicky will casually toss out the very advice you needed most. When it happens, you will feel like you were hit by a thunderbolt. I enjoyed her advice about dressing for a first date, meeting his parents, and more, and all along she gives you many vignettes that allow you to see her own lifestyle. Those peeks into her own life allow you to understand why she has the authority and experience in her early thirties to write this wonderful jewel of a book.
She has advice on such things as:
The $30 wardrobe item you can't live without.

The one closet accessory that keeps everything organized at all times.

Five must-have wardrobe items, all affordable.

How to pack a suitcase like a jet-setter.
I feel you will enjoy this book and get much from it. Just click here to order your copy:
http://amzn.to/1qE6BzC
---
A COMPLETELY NEW WAY TO FIND LOVE ONLINE WITH DREAMCLIQ.COM
I have partnered with a new online dating site Dreamcliq.com, an entirely new way to meet people. We all know how hard it is to write personal descriptions. Dreamcliq is doing something new: users create visual profiles to easily express what they love. Instead of awkward written descriptions of yourself, you can use images to express who you are and what you love in style, art, travel, design, and entertainment. You will click on photographs that express the real you, and the process is fun. If you see someone that interests you when looking at the photographs they chose to express themselves, you can read my previews of your Sun sign's compatibility with the person you are interested in contacting. Just remember, all signs can get along with any other sign, for if love is there, the stars will open a path!
As a special gift to all my readers, you will receive 10 free cliqs to use on Dreamcliq.com when you sign up using this special access link. This promotion will be in place from now through December so that you can increase your chances of starting 2015 with a grand love in your life. This promotion on Dreamcliq is open to all my readers, male and female, straight and gay. Everyone of every sign is invited. Sign up - you have nothing to lose and everything to gain. When CEO of Dreamcliq Melissa Jones came to me with her idea sketched on paper a year ago, I didn't know her yet, but I was so impressed with her originality and intelligence, I knew immediately I wanted to work with Melissa. The media has reviewed her brand new site, and the rave reviews are in. You can see them as you explore the site.
To learn more about love and astrology, read my article on Dreamcliq's blog. I have lots to say in my essay about love and how astrology works to help you find love, so be sure to scroll down to catch all that I wrote. You may find my words helpful as you embark on your new adventure to find love. I love Dreamcliq because by choosing from images for your profile, you reveal your personality in an artistic way that is honest, stylish, and exciting. Give it a try!
---
MY PERSONAL CUSTOM HOROSCOPE BOOKS
WRITTEN BY SUSAN MILLER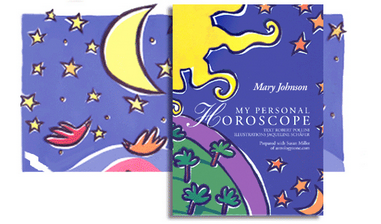 Looking for unique gifts for the coming holidays? - Choose from My Personal Horoscope for Adults or for Babies (Baby Boy light blue cover or Baby Girl pink cover), or for a Relationship, the Two of Us.
Two weeks on average from order receipt to delivery to any US destinations. One week longer elsewhere.
Also PDF option available for destinations overseas where delivery tracking of printed books is prohibitively expensive. The content is same as the print edition with its full-color illustrations by Jacqueline Schafer. The PDF delivers within 7 days on average.
My Personal Horoscope Custom Natal Chart Book $49.99 plus shipping / tax
For more information call Susan's publisher, Arthur Heydendael 914.271.3640 ext 14 or click here:
http://www.americadirectbook.com/Customized_Books
To view a forecast, select a sign from the menu below and click on Go.